CMAA-SAC's Position on COVID-19 | Update
The impacts of COVID-19 vary by region and state and our focus remains on the overall potential impact on public health and attendee safety. Out of an abundance of caution and in the best interest of public health, we have made the decision to make all in-person CMAA South Atlantic Chapter events virtual through the end of 2020, including our ever popular breakfast meetings.
We are well underway for planning for the 2020-2021 program year and look forward to meeting in person and virtually at one of our 2020-2021 events. The first of which is a Market Sector Breakfast focused on the Corporate Office Market across the Southeast on September 29. Sponsorships and registrations are now available.
Thank you for your patience and we appreciate your support as we continue to navigate this challenging situation. We will keep you informed through email, website, and social media on the status of events.
INDUSTRY NETWORKING
Connect and network with AEC industry professionals and owners with dedicated networking time at every event year-round and exclusive networking opportunities at our signature Owners' Socials.
PROFESSIONAL DEVELOPMENT
Enhance and advance your career with industry specific educational opportunities at client panel breakfast events and our Lunch and Learn Series, educational forums for new technologies and best practices. CMAA's certification program is the gold standard in personnel credentials for the construction management profession.
WORKFORCE DEVELOPMENT
Whether supporting industry initiatives with partnerships with other organizations or fostering industry growth through educational scholarships, CMAA SAC is committed to seeking solutions to bridge the employment and workforce gap in the construction industry.
Dedicated to the practice of professional construction management.
CMAA represents more than 16,000 members including federal/state/local government and private sector owners, construction consultants, technology suppliers, academia, and legal organizations all with a common goal: to improve our nation's infrastructure.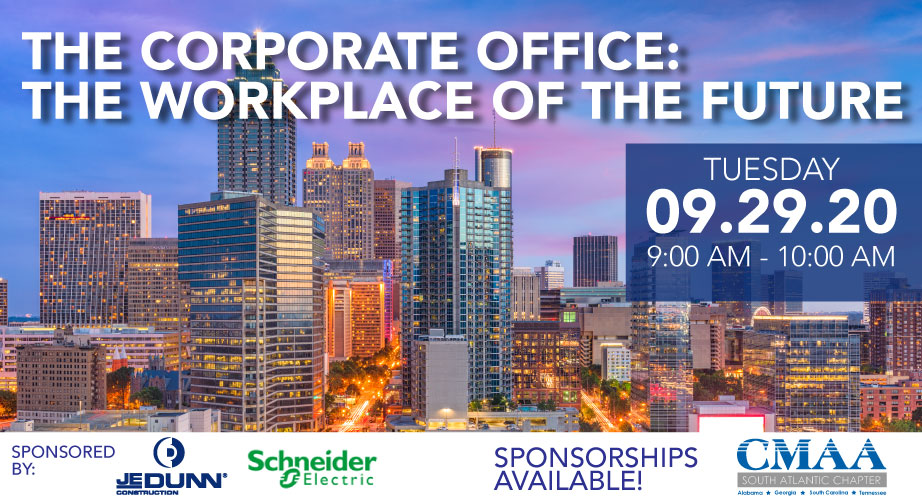 September 29 Virtual Market Meeting
Time: September 29 @ 9:00 am – September 29 @ 10:00 am
The Corporate Office: What Does the Workplace of the Future Look Like? The private commercial market is exploding across the Southeast with multiple corporate headquarters relocating for many reasons, including […]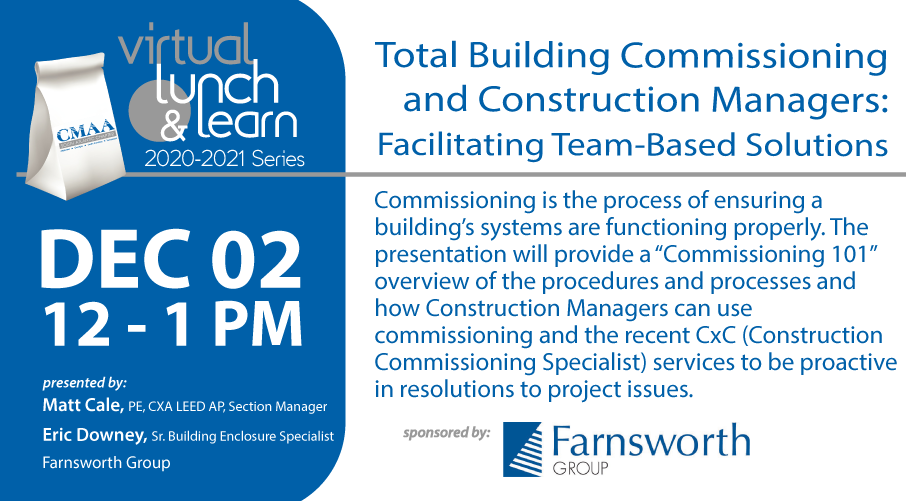 Lunch & Learn
Time: December 2 @ 12:00 pm – December 2 @ 1:00 pm
Please join CMAA-SAC for our December 02 Lunch & Learn Topic: Total Building Commissioning and Construction Managers: Facilitating Team-Based Solutions Sponsored by: Farnsworth Group Commissioning is the process of ensuring a […]