Project Achievement Awards
The annual South Atlantic Chapter Construction Management Project Achievement Awards program recognizes outstanding achievement in the practice of construction management. The awards program is designed to recognize and promote professionalism and excellence in the management of the construction process. Awards are given to CM practitioners for projects and programs that reflect this mission.
The 2021 Awards Program is open and we are now accepting entries for projects completed between January 1, 2020 and March 19, 2021.
This program is open to all CMAA members AND non-members and multiple entries from a single firm are accepted.
All projects submitted my have been MANAGED FROM or CONSTRUCTED IN the geographic boundaries of the SAC (Alabama, Georgia, South Carolina, and Tennessee). International projects must be managed from the South Atlantic geographic region.
Entries must be received by 12:00 PM, Friday, March 19, 2021.
Questions should be directed to Alex Chung no later than 5:00 PM, March 18, 2021.
The 2021 CMAA South Atlantic Chapter Project Achievement Awards will be presented at the Annual Awards Banquet on Thursday, August 19, 2021.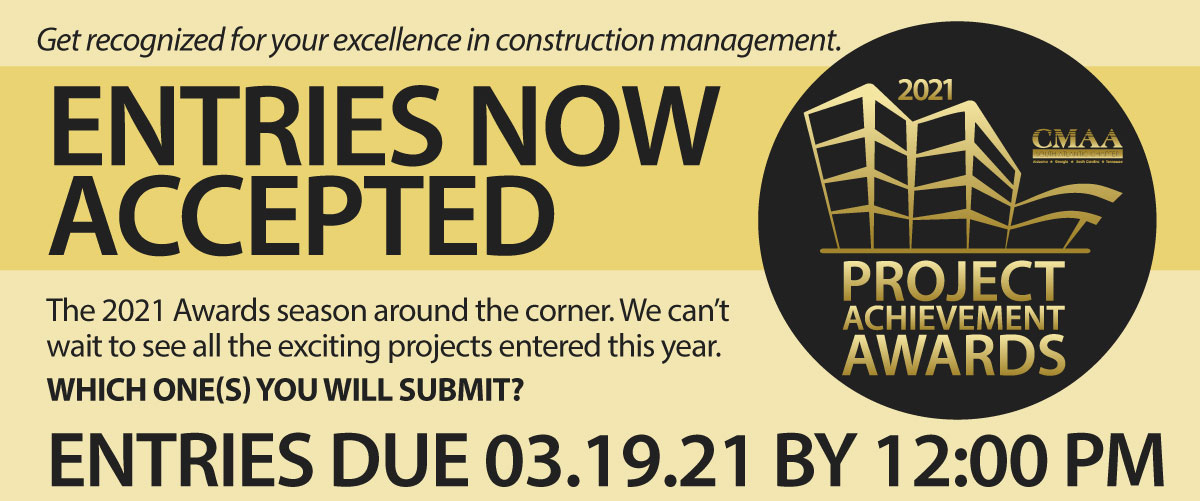 The entry fee is $300 for members and $500 for non-members, which must be paid before entries can be judged. All entries become the property of CMAA SAC. The information and images submitted may be used for promotional purposes by CMAA.
Past Project Achievement Awards Winners
2020 Project Acheivement Award Winners
2019 Project Acheivement Award Winners
2018 Project Acheivement Award Winners
2017 Project Acheivement Award Winners
2016 Project Acheivement Award Winners