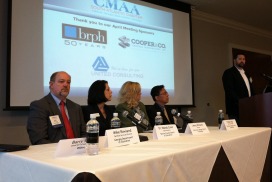 The South Atlantic Chapter of CMAA (which includes Georgia, Alabama, South Carolina, and Tennessee) is seeking your support. Your support will make it possible for us to provide top notch events and better communication for our members. The success of these will be credited largely to our sponsors, who lend their names and financial support during these economical times.
The Sponsorship Program has been established to focus on bridging partnerships with region-wide businesses and organizations – all in an effort to grow the chapter resources to better serve our members and our communities.
The structure of our Sponsorship Program will provide exposure for your company at an amazing value. We have various levels and ways for you and your firm to support CMAA-SAC.
Thank you in advance for your willingness to support the efforts of the South Atlantic Chapter. If we can answer any questions, please do not hesitate to contact us.
SPONSORSHIP OPPORTUNITIES
LIMIT 3 (member firms only, effective 08|2015 - 07|2016)
Logo and link to firm's website placed on Chapter's homepage from September to August

Name and Logo recognition at every chapter event (10 events per calendar year)

Includes one reserved table for 10 at Project Achievement Awards Banquet and recognition

Complimentary foursome at annual Golf Tournament 

2 FREE registrations to 4 Breakfast Meetings 

Reserved seating for 2 at Breakfast Meetings selected
BREAKFAST MEETING
SPONSOR
$500 members
$675 non-members
LIMIT 4 (non-competing firms per event)
Exhibit materials at selected meeting

2 minute verbal company infomercial at selected meeting
2 FREE registrations to selected meeting with reserved seating
Name recognition on all promotional items for selected meeting
Verbal recognition at selected meeting
Attendee list after the meeting
OWNERS' SOCIAL SPONSOR
$500 members
$675 non-members

LIMIT 4 (non-competing firms per event)
Complimentary registration for three (3) company representatives
Verbal and visual recognition prior to and during the event

company logo on promotional material
company logo on continuous loop on monitors during event

(as permitted by venue)

recognition on signage displayed at event

Display marketing materials during event
One company representative to receive 2-3 minutes for introductions and description of company's services, products, etc.
Opportunity to provide two (2) door prizes for raffle drawing
Receive contact list of attendees following event.
This annual event takes place in June honoring the finest in CM project delivery awards and year end banquet. 
2016 Banquet Sponsorships include:
Platinum: $2,500 (limited to 1)


Premiere placement of table for 10.
Host scholarship recipient and naming of scholarship award. 
Corprate: $1,500 


Premiere placement of table for 10