While we find ourselves and many of our members and participants to be in relatively good places overall, despite the pandemic, we are fully aware the toll this has taken on other industries, in other markets and other geographic areas. While CMAA- SAC is feeling the pinch of lost revenues from canceling our biggest events this year, we find strength and encouragement in the conviction that we must always seek to do more and do better. To that end we've placed philanthropy high on the list of priorities for this year. To make it easier to tackle and transferable to other areas with our chapter, we've broken the efforts down into seasons.
Our current plans for this year are outlined below. They are subject to change and we encourage you to reach out to use at info@cmaasac.org if you have a cause or organization you would like us to consider championing.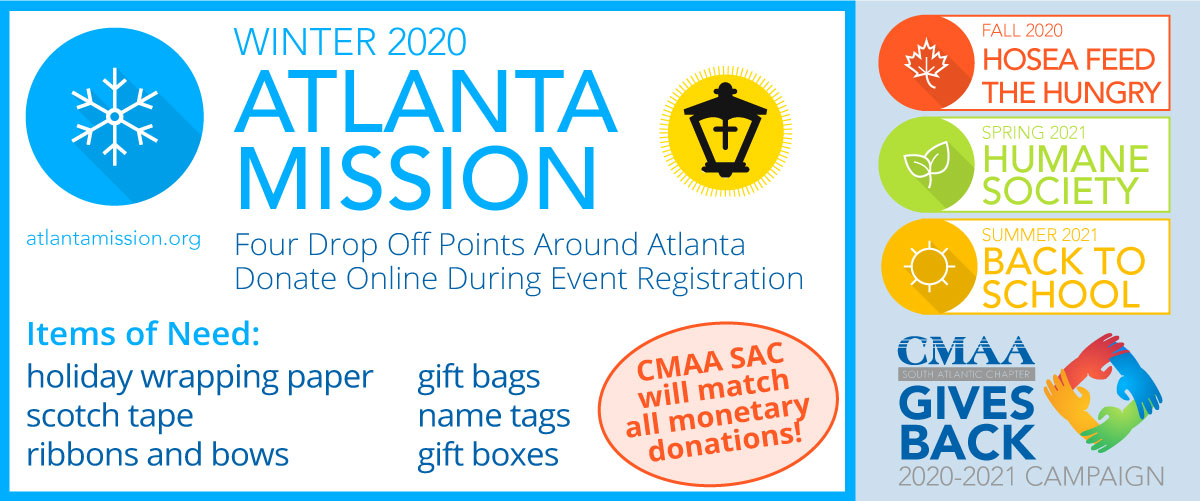 NOVEMBER 18 – DECEMBER 20
CMAA-SAC is proud to partner with Atlanta Mission. It's a long standing history in the Atlanta community of serving those in need.  This being our first year, our efforts are focused largely in the Atlanta area. As we continue to establish and develop our CMAA communities in other areas within our region, we will look to incorporate efforts local to those areas as well.
Our first campaign was very successful with Hosea Feed The Hungry.  Our second campaign of the year is currently underway. You can now donate items at any of the locations listed on our website or donate money during event registration as an add on. CMAA SAC will match all monetary donations. All funds collected will be used to purchase needed items and all donations will be delivered to Atlanta Mission on December 20 in time for their gifting event.
Perimeter
Albion
8601 Dunwoody Place, Bldg 300, Suite 330
Sandy Springs, GA 30350
(678) 325-5900
Darden
900 Circle 75 Parkway, Suite 780
Atlanta, GA 30339
(678) 483-5379
Midtown
New South Construction
1180 W Peachtree St NW, Suite 700
Atlanta, GA 30309
(404) 443-4000
OTP
Multivista
3284 Medlock Bridge Road, Suite 100
Peachtree Corners, GA 30092
(678) 691-1541