While we find ourselves and many of our members and participants to be in relatively good places overall, despite the pandemic, we are fully aware the toll this has taken on other industries, in other markets and other geographic areas. While CMAA- SAC is feeling the pinch of lost revenues from canceling our biggest events this year, we find strength and encouragement in the conviction that we must always seek to do more and do better. To that end we've placed philanthropy high on the list of priorities for this year. To make it easier to tackle and transferable to other areas with our chapter, we've broken the efforts down into seasons.
Our current plans for this year are outlined below. They are subject to change and we encourage you to reach out to use at info@cmaasac.org if you have a cause or organization you would like us to consider championing.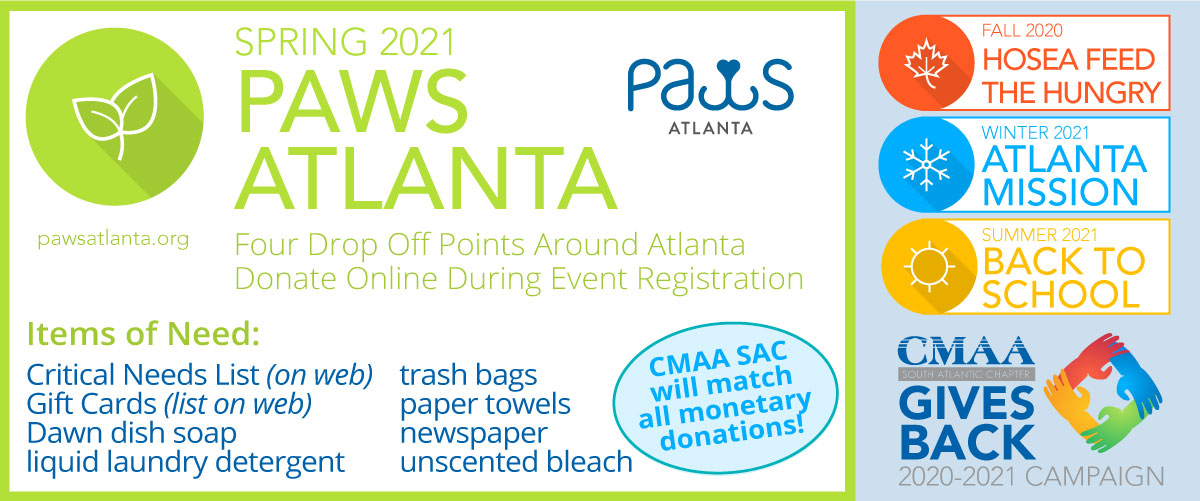 CMAA-SAC is proud to partner with PAWS Atlanta for our Spring campaign.
Our first two campaigns were very successful with Hosea Feed The Hungry and Atlanta Mission. Our third campaign of the year is currently underway. You can now donate items (review PAWS Atlanta WISH LIST) at any of the locations listed on our website or donate money during event registration as an add on. CMAA SAC will match all monetary donations. All funds collected will be used to purchase needed items and all donations will be delivered to PAWS Atlanta at the end of April.
---
ABOUT PAWS ATLANTA
PAWS Atlanta believes that people and pets bring out the best in each other. Therefore, our mission is to build a community of caring, by people helping pets and pets helping people. To accomplish this vision, we offer:
Pet Adoption & Foster Services
Bi-monthly Pet Wellness Clinics
Discount health preventatives 
Summer Camps for kids to teach the pet parents of tomorrow
A pet food bank for loving owners going through hard times
Senior support & pet matching assistance
Community outreach & education
PAWS Atlanta is governed by a board of directors and a small, but dedicated, staff cares for the pets in our free-roaming cat cottage, small and large dog area, isolation area for sick pets, and our animal intake areas.  We also have a lovely 3.5 acre walking trail and off-leash area where you can get to know us and our pets a little better.  We invite you to visit PAWS Atlanta to see what we have to offer!
PAWS Atlanta receives no funding from federal, state or county governments. The vital services we offer to the community, are made possible by the thoughtful generosity of our supporters.
Perimeter
Albion
8601 Dunwoody Place, Bldg 300, Suite 330
Sandy Springs, GA 30350
(678) 325-5900
Darden
900 Circle 75 Parkway, Suite 780
Atlanta, GA 30339
(678) 483-5379
Midtown
New South Construction
1180 W Peachtree St NW, Suite 700
Atlanta, GA 30309
(404) 443-4000
OTP
Multivista
3284 Medlock Bridge Road, Suite 100
Peachtree Corners, GA 30092
(678) 691-1541