Breakfast Meeting:
It's a Bird! It's a Plane!
It's Technology in Construction!
October 17, 2017
The Buckhead Club
3344 Peachtree Road
Suite 2600
Atlanta, GA 30326 (map)

Pricing:
$35.00 | Owners
$45.00 | Members
$60.00 | Future Members
$10.00 | Students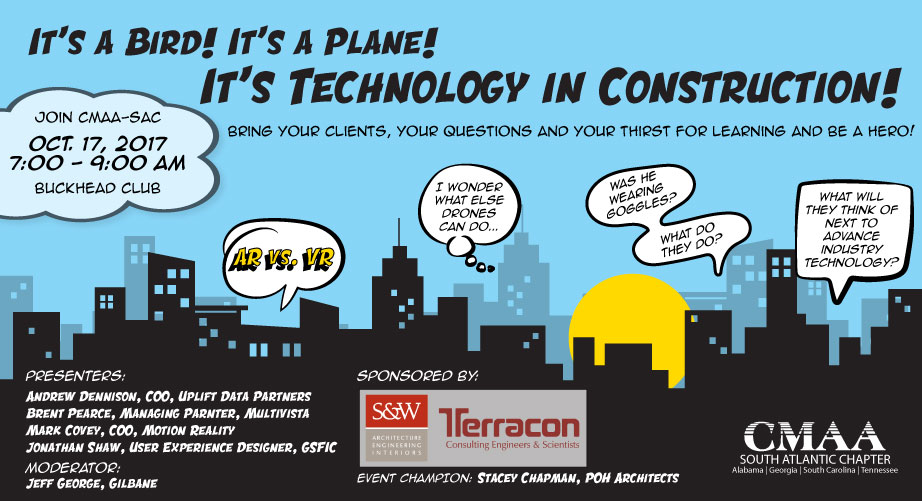 Technology is king in every aspect of the construction process today - from the interview room to project operations to closeout and everything in between. We're all working hard to be superheroes to our clients and bring the next innovation forward. What are the emerging technologies that are transforming the industry and how do we incorporate them effectively to save the day (and the dollar) for our clients? What futuristic ideas are in development and poised for commercial success? Bring your clients, your questions and your thirst for learning to CMAA's October Breakfast meeting and be a hero!
---
Uplift Data Partners
With the advent of drone technology and photogrammetry accurate point clouds can be collected and processed within hours for a very low cost. The builders that learn to adopt this new data will be able to beat budgets, increase efficiency and lower prices for owners. Hear an overview of the construction lifecycle and how Uplift has integrated drone technology into the existing construction framework with the help of drone pilots, construction site manager, BIM engineers, and data analysts.
Multivista
While documentation has long been a critical piece to any successful project, technology advancements across our industry continue to enhance the way we capture and share this information. Multivista's Site-Walk 360° provides construction and facilities management professionals with an immersive, 3D navigation experience, allowing stakeholders to view all building systems at their project's critical milestones. Multivista's UAV services provide aerial documentation throughout the project lifecycle. Site mapping is provided to help your construction team analyze site conditions, perform quantity take-offs, and better visualize your project site. During construction, high-resolution aerial photos, videos, and panoramas are fully-integrated into your project database for continued monitoring of progress and as-built conditions.
Motion Reality
Discover the challenges of creating a collaborative virtual reality environment for up to 12 people in a 5,000 sq ft space equipped with head-mounted displays, full body tracking, and wireless man-worn computers for pre-construction design and virtual viewing. The speaker will include examples of how fully immersive multi-person VR has already been used for training FBI agents, the UAE's Presidential Guard, and security personnel for two Super Bowls and how that technology can be adapted for use in the construction market.
GSFIC
Discussion exploring the boundaries of VR/AR, emerging technology, computational design, and architectural visualization.
Thank you to our sponsors:

Jeff George, Gilbane
Jeff leads the sales and marketing activities for the southeast group of Gilbane Building Company in Atlanta. His office focuses on construction in the K12, Higher Education, Multifamily, Judicial, Healthcare and the Manufacturing markets.
Jeff started his building career in Dallas, Texas and moved to Denver to continue building. After 3 years in Colorado, he was asked to move to Atlanta, Georgia to continue to follow the office construction market. Since then, he has spent close over 25 years working out of Atlanta and building buildings all over the country. Jeff graduated from Texas A&M University with a Bachelor's of Science in Building Construction.
Andrew Dennison, COO, Uplift Data Partners
Andrew Dennison is the COO of Uplift Data Partners, a full-service drone technology company focused on flying, analyzing and delivering data insights for Construction. Dennison has experience in business development and operations in the drone industry. He is an expert at integrating drone technology into construction, ensuring safe and compliant drone operations, and understanding drones for enterprise applications. Prior to his role at Uplift, Dennison worked at SkySpecs, a drone company focused on automatic wind turbine inspections. He graduated from University of Michigan and is a big Michigan Football fan.
---
Brent Pearce, Managing Partner, Multivista
Brent Pearce is a Managing Partner for Multivista (GA). Prior to joining Multivista, Brent spent several years with an ENR Top 100 General Contractor working on projects across a variety of market segments. With a B.S. in Building Construction, his experience covers both the operations and technical services sides of the construction industry.
---
Jonathan Shaw, User Experience Designer, GSFIC
Jonathan Shaw is an User Experience Designer at the Georgia State Financing & Investment Commission. Jonathan recently joined GSFIC after 14 years as a Research Scientist and Instructor in the College of Architecture and College of Computing at Georgia Tech. He received his undergraduate degrees in Art and Mathematics from Kennesaw State University and his Master's degrees in Design Computing and Human Computer Interaction from Georgia Tech.
Mark Covey, COO, Motion Reality, Inc.
Mr. Mark Covey is the Chief Operating Officer for Motion Reality, Inc. In this position, Mr. Covey oversees the day to day operations of Motion Reality, a company with over 33 years' experience in Motion Capture for films, games, sports, health, and virtual reality simulations. During these years, Motion Reality has become the developers of the world's most accurate, real-time human motion capture and simulation technology for use throughout the training, health, and entertainment industries.
From August 2007 to May 2011, Mr. Covey served as the Director of Systems Integration, Modeling, and Simulations (SIMS) for the U.S. Army's Joint Training Counter-IED Operations Integration Center (JTCOIC). Mr. Covey served for over 20 years in the U.S. Army as a Signals Intelligence Analyst and Russian linguist. He retired from the United State Army in 2005 Mr. Covey is a graduate of Excelsior College with a Bachelor of Science Degree in Administration and Management, and of the University of Redlands with a Master of Science Degree in Geospatial Information Systems.
He is also a graduate of the Defense Language Institute, the Foreign Language Training Center, and the Central Intelligence Agency's Advance Soviet Realities Program. 
AEC Industry MEGA Meeting
September 19, 2017
11:00 AM - 2:00 PM
The Ballroom at the Carlos Center
2500 Clairmont Road NE
Atlanta, GA 30329 (map)
The annual Mega Meeting is an exclusive A/E/C industry event and a wonderful opportunity to promote your firm or organization. The program brings together numerous professional associations and over 200 attendees within the design and built environment.
One of the biggest challenges that the A/E/C industry is facing today is the growing need to recruit new talent. Join us for this year's MEGA Meeting where we will discuss what Georgia is doing in order to encourage young minds to engage in our industry. Our keynote speaker, Mr. Ben Hames, Deputy Commissioner of the Georgia Department of Economic Development – Workforce Division, along with a distinguished panel will address what the State and other organizations are doing to help grow our industry.