Breakfast Meeting:
CMAA-SAC November
Breakfast Meeting
MISSION CRITICAL: It's Not Just For Data Centers
WEDNESDAY
November 15, 2017
The Buckhead Club
3344 Peachtree Road
Suite 2600
Atlanta, GA 30326 (map)

Pricing:
$35.00 | Owners
$45.00 | Members
$60.00 | Future Members
$10.00 | Students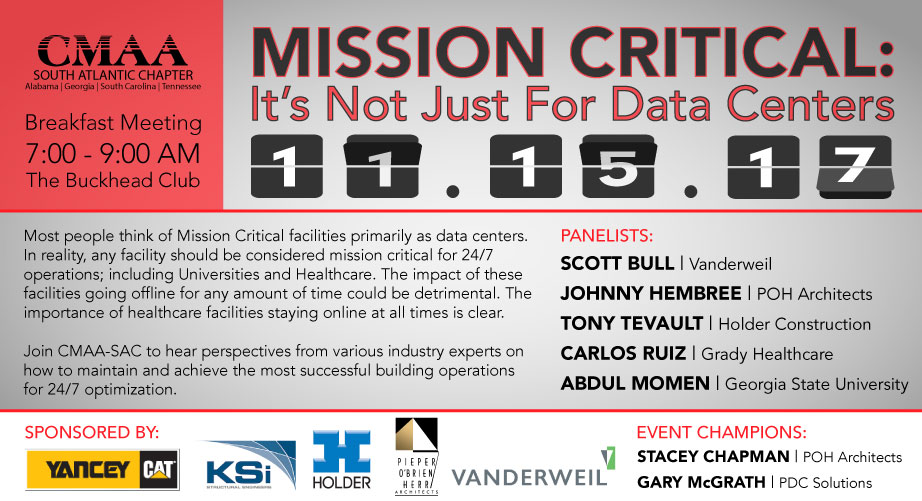 Most people think of Mission Critical facilities primarily as data centers. In reality, any facility should be considered mission critical for 24/7 operations; including Universities and Healthcare. The impact of these facilities going offline for any amount of time could be detrimental. The importance of healthcare facilities staying online at all times is clear.
Join CMAA-SAC to hear perspectives from various industry experts on how to maintain and achieve the most successful building operations for 24/7 optimization.
Thank you to our sponsors:
Scott Bull, Vanderweil
Scott has a background in design and construction within the industrial, commercial, and mission critical market segments. He has worked for both architecture and engineering firms and with a large design build construction firm. His 22 year career reflects a record of success for instilling confidence as a client advisor and translating vision into a business development strategy that drives growth, profitability and competitive differentiation. His experience also lies in collaborating with developers, contractors and allied disciplines on complex projects, including hospitals, sophisticated data centers and mid-rise office buildings.
---
Johnny Hembree, POH Architects
Johnny is recognized as an industry leader with the trends and planning of mission critical facilities. He has an understanding that the overriding purpose of a critical facility is to support the data processing functions occurring within the facility and to ensure that those processes continue uninterrupted. He has been involved in the design of millions of square feet of white space over the past 15 years, ranging from Tier II to Tier IV with the majority being Tier III+, this provides a pure Tier IV electrical system with a Tier III mechanical system.
Johnny has over 25 years of architectural experience, bringing a diverse background in project types. He is a Principal of Pieper O'Brien Herr Architects and oversees the firm's office, interiors, healthcare, and mission critical projects. He brings a proven ability to manage large, technically complex projects. He directs the day-to-day progress of the design and construction according to the budget, quality of design, and schedule and provides the Owner with a single-point of contact throughout all phases of the project.
---
Abdul Momen, Georgia State University
Abdul Momen is the director of facilities maintenance and operations in the Facilities Management Services Division at Georgia State University. The University's central campus is located in downtown Atlanta, includes 39 facilities with a gross area of approximately twelve million square feet. Abdul supervises an in-house work force of 130 persons with an annual budget of seven million dollars with addition of a fourteen million dollar utilities budget. He has worked for Georgia State for the last 26 years and current responsibilities include the regular operation and maintenance program for all facilities to long range planning of capital improvement projects. Abdul is LEED certified, served on Director Board of SERBCA from 2009 to 2011 and graduated with Baccalaureate degree in Chemistry from Dhaka University, Bangladesh.
Tony Tevault, Holder Construction
Tony is Vice President of Holder Construction Company, a national, commercial construction services firm with experience in over 30 states and offices in San Jose, Phoenix, Charlotte, Dallas, Atlanta and Washington DC. Holder is consistently ranked by ENR as one of the nation's leading contractors in Construction Management, General Construction, and Design-Build, and has been recognized as the largest builder of data centers ten of the past twelve years.
Tony focuses on the data center market and brings a unique blend of experience as both a manager and operator of a certified Tier IV data center, as well supporting the design, preconstruction, construction and commissioning of new and existing data centers for Holder. His experience includes work on over 200 data centers located throughout the United States and South America.
Tony received a B.S. in Civil Engineering and an MBA from the Georgia Institute of Technology. He is an Uptime Tier Accredited Specialist, and is LEED Accredited by the United States Green Building Council. He is the current leader of the Atlanta Chapter of the 7X24 Exchange, a group focused on end-to-end reliability by promoting dialog among peer groups. He is an active member of AFCOM, and has delivered numerous presentations on data center design and construction to the industry.
---
Carlos Ruiz, Grady Healthcare
An expert senior executive in healthcare and higher education. Extensive experience in molding and adapting division goals and culture to align with organizational mission and vision. Results driven leader with proven track record of improving employee engagement, program management, facilities optimization, food quality and safety, while improving patient and customer satisfaction. Energetic leader experienced in developing data driven capital improvement plans, leveraging facility condition analyses to develop a comprehensive maintenance, renewal and replacement plan.