As a benefit to our members, we provide multiple opportunities throughout the year to earn continuing education credits.  Our breakfast meetings are typically held on the second Tuesday of each month, with some variation based on space and speaker availability.
They take place at The Buckhead Club at 3344 Peachtree Road NE, on the 26th floor in the heart of Buckhead with amazing views of the city and surrounding areas.  These are highly informative and educational events that also provide members and guests the opportunity to engage and grown their network of industry and Construction Management professionals.
We hope to see you at our next meeting!
CMAA-SAC May Breakfast Meeting
Millennials In Construction: connecting with a new workforce & mindset

May 23, 2017
8:00 - 10:00 am

Georgia Tech Caddell Building
280 Ferst Drive NW
Atlanta, GA 30332 (map)
Cost:
CMAA Members  |  $35.00
Future Members  |  $50.00
Students  |  $10.00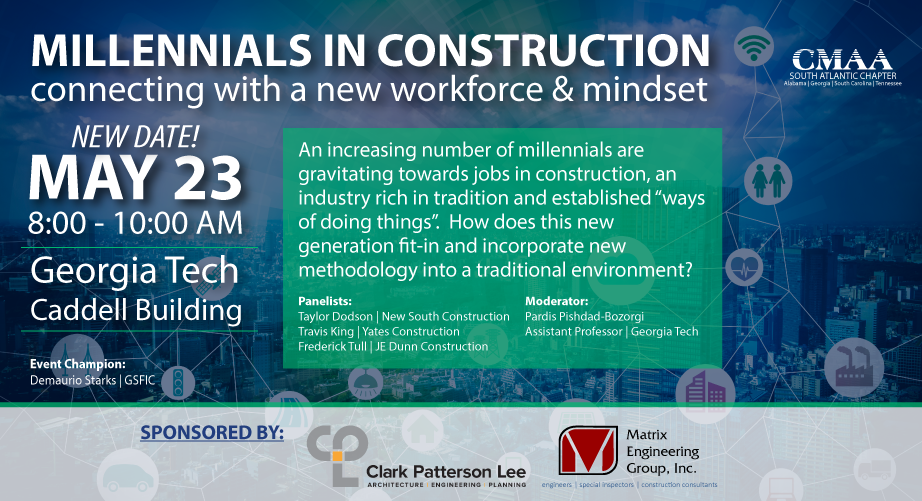 Millennials In Construction:
connecting with a new workforce & mindset
An increasing number of millennials are gravitating towards jobs in construction, an industry rich in tradition and established "ways of doing things". How does this new generation fit in and incorporate new methodology into a traditional environment.
Learning Objectives:
Strategies to attract, retain and develop young workers

How Technology is fueling Millennial interest in Construction Careers

VDC/BIM

Technology Systems – Ipads, Tablets, Project Management Systems

Common misconceptions about Millennials in the construction industry

Build comprehensive human capital programs to engage workers

Identify training and development strategies required to maximize performance and bridge generational gaps

Skills to bridge the communication divide among varied generations
Thank you to our Event Champion, Demaurio Starks of GSFIC.
Thank you to our Sponsors