January 15 Lunch & Learn
January 15, 2020 @ 12:00 pm

-

1:00 pm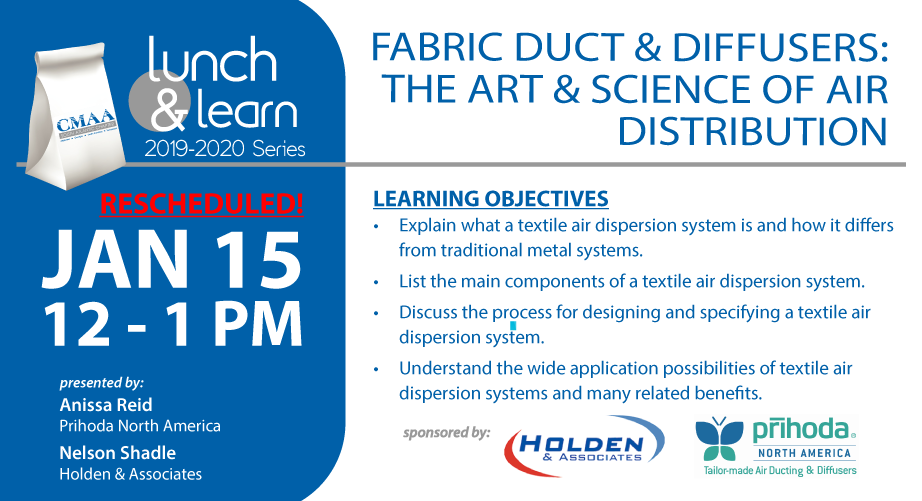 Please join CMAA-SAC for our January 15 Lunch & Learn (RESCHEDULED!).
Topic: Fabric Duct & Diffusers: The Art & Science of Air Distribution
Sponsored by: Holden & Associates and Prihoda North America

This course will explore the advantages and potential applications of textile ducting and diffusers, also known as fabric air dispersion systems and address common myths and misconceptions related to this topic. Textile Air Dispersion systems have come a long way in technical development over the years in terms of features, benefits, and aesthetics. Similar to traditional metal duct systems, textile air dispersion systems operate to circulate air for heating and cooling systems; however, unlike traditional metal ducts, modern textile system distribution ducts and diffusers are made of engineered polyester that can even be derived from recycled plastics, that does not rust, corrode, or retain moisture. Textile diffuser systems offer virtually unlimited design flexibility including various shapes, colors, and custom printing options to give designers unmatched ability to tailor the form and function of air distribution systems.
Learning Objectives:
– Explain what a textile air dispersion system is and how it differs from traditional metal systems
– List the main components of a textile air dispersion system
– Discuss the process for designing and specifying a textile air dispersion systems and many related benefits
The presentation will be comparable to AIA and will help you fulfill CEU's for other organizations. Attendance Certificates will be made available to all attendees. Syllabus (1 hour CEU)
All proceeds will go towards funding the annual scholarships at our awards banquet in June.
Related Events