Mar 23 Breakfast Meeting
March 23 @ 9:30 am

-

11:00 am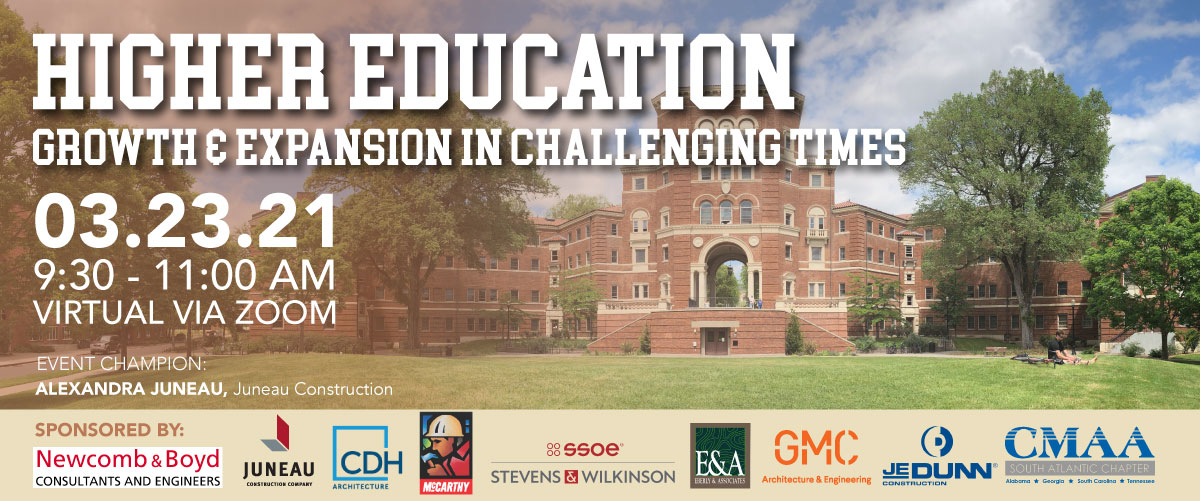 Higher Education: Growth and Expansion In Challenging Times
Join the CMAA-SAC at a March Virtual Market Meeting where CMAA SAC has assembled a panel of representatives from the planning, design, and construction/facilities departments of universities in our region (AL, GA, SC, TN).
The panel will discuss their building programs, the impacts of the pandemic on their master plans and growth, infrastructure changes related to technology and the changing nature of the on-campus experience with the explosion of remote learning, etc.
Be sure to stick around after the meeting for small group networking with the panelists from 10:30 – 11:00 AM ET.

---
Thank you to our sponsors:
CDH Partners | Eberly & Associates | GMC Architecture | JE Dunn Construction | Juneau Construction | McCarthy Building Companies | Newcomb & Boyd | SSOE | Stevens & Wilkinson
Thank you to our Event Champion: Alexandra Juneau of Juneau Construction
---
PANELISTS: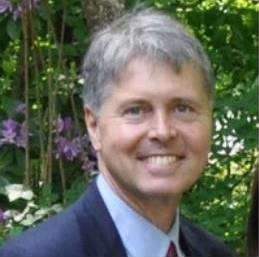 PAUL BORICK
Project Manager, University Facilities Capital Projects
Clemson University
Paul M. Borick RA, has over 40 years experience in the design and construction field.  Mr. Borick was the project manager for the recently completed $87.5 million, Wilbur O. and Ann Powers College of Business delivered using the CM at Risk delivery method.  He was also the project manager for the Football Operations Center and the Greenwood Genetic Center (a design-build project).  Mr. Borick was with Clemson University Capital Projects for eleven years before taking a position with Wake Forest University for three and a half years in the Planning and Construction Department.  At Wake Forest Paul completed several CM at Risk projects of various complexities and size.  These projects included: two (240) bed residence halls, a new (300) seat dining facility, a major renovation of the Law School and the completion of the new business school.  Before leaving Clemson, Paul managed both the Lee Hall renovation/addition project and the new Life Science Building project both delivered utilizing the CM at Risk delivery method.  Prior to joining Clemson University the first time Paul also managed numerous design projects at North Carolina State University in Raleigh, NC.
---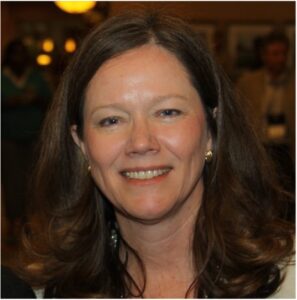 LINDA DANIELS
Associate Director, Campus Facilities Planning
GEORGIA TECH
A registered architect, Linda Daniels has broad experience in the facilities arena and the life cycle of the built environment, including:  real estate/facilities capital and master planning, financing, design, construction, renovation, and historic preservation, as well as the operations and maintenance of campus infrastructure, buildings, and grounds. 
In 2012, Linda joined the Administration & Finance team at Georgia Tech, and currently works with Institute units and affiliates, advancing the Campus Vision and Master Plan.  As Associate Director for Facilities Planning, she is responsible for the effective space allocation, use/ utilization, renovation, and renewal of 16 million gross square feet of space on Tech's Campus.  Linda has served two terms on the College of Design, School of Building Construction Advisory Board and enjoys mentoring GT students and sharing real world experience and perspective through shadowing opportunities related to campus planning and projects.
Linda's public sector career began with the University System of Georgia (USG) in 1992.  Two years later, she was managing a $150 million flood recovery, at Albany State University.  This experience led to her appointment as the USG's first Director of Campus Master planning.  Linda served as Georgia's University System Vice Chancellor for Real Estate and Facilities from 2002 thru 2012.  In this role, she championed the value of investing in campus facilities designed and maintained to serve higher education, for a measurable return on investment.  She oversaw the development and implementation of the System's Public Private Ventures funding mechanism, from inception thru a $3.9 billion investment initiative.  From 1992 to 2012, the USG's physical plant grew from 43 to 93 million gsf statewide.
Prior to joining the State's University System, Linda practiced Architecture in the private sector, in both metro Atlanta and South Georgia.  She holds degrees in environmental design and architecture from Auburn University.  As an undergraduate, Daniels completed internships with the Historic American Buildings Survey in Washington, D.C., Served as a Freshman Design Teaching Assistant and graduated with a cooperative education degree.
Linda currently lives in Decatur, GA with her husband, Charles.  They have grown children; Hobie, Sarah, Googie and Asa.  Her hobbies include Zen knitting, tennis, gardening, and enjoying extended family vacations.
---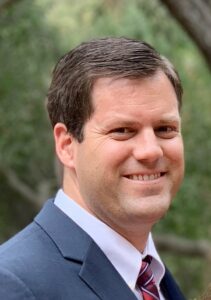 AUSTIN OAKES
Assistant Vice President, Office of Capital Projects
The University of Tennessee System
Austin Oakes serves as the Assistant Vice President for Capital Projects for the University of Tennessee. In this role, Austin oversees UT's capital budget process, real property management, space administration, and facilities planning, including the management of all major design and construction and renovation projects across the UT system.  In addition, Austin works closely with Tennessee state agencies—including the State Building Commission, the Tennessee Higher Education Commission, the Tennessee State School Bond Authority, and the Tennessee Historic Commission —to ensure UT capital projects are properly coordinated and approved.  Prior to his work at UT, Austin served as the Assistant Vice President for Facilities Management at the University of the South and the Executive Director for Planning, Operations, and Construction at Pepperdine University.
---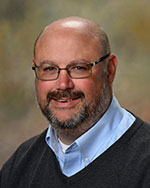 SIMON YENDLE
Assistant VP, Planning Design & Construction
Auburn University Facilities Management
---
MODERATOR:
Laura Leigh Barrett
Senior Director, Darden Company
President – CMAA South Atlantic Chapter
While earning her bachelor's degree from the University of Georgia, Laura Leigh accepted an internship on a construction project on campus. That is where she fell in love with construction and the inner workings of the entire building process. For many years, she sat on the owner's side of the table, even acting as a program manager with GSFIC and TCSG. Time spent with these public entities shaped her view of the industry as she learned to appreciate the challenges they face with high expectations and limited budgets. Today as Senior Director and an owner's advocate, she dedicates her talents to mitigating risks for her clients, mostly public institutions.
Related Events